Dr. Beverly Oxley, President, Executive Director
Beverly Oxley is an ardent defender of the powerless and the young. Although she has retired twice from stimulating careers in psychology and education, her dedication for helping those in need will likely keep her in the workplace for many more years. It's that commitment that motivated her to open up Wellsprings Psychological Resources in 2009 and it's that zeal that is driving the founding of The Ark, a place where shattered families can become whole again.
Dr. Oxley's heroine is her maternal grandmother ("Grandma Clink") who lived to be 97, sharing her flowers, home-made jams, and organic vegetables with her neighbors, the homeless, and her extended family. Grandma Clink unashamedly showed loving kindness to people of all walks of life.
A radical passion for sharing life and her faith with people has taken Dr. Oxley around the globe, leading numerous mission trips with her husband Paul into East Africa, but also for cross-cultural training in psychology/ counseling in Eastern Europe (Ukraine and Romania) and in Asian countries (Malaysia and Singapore). If you want to see her become animated and her eyes light up, ask her about her grandchildren. She has two of her own and several others she has "adopted" over the years. If a child wants a "Gigi," she is the first in line to volunteer!

Qualifications: Owns and directs a for-profit counseling center; Licensed Psychologist in Georgia; Registered Play Therapist & Supervisor; in private practice since 2001 and has been working with foster children in northeast Georgia since 2003; 16 years of experience as special education teacher and 17 years as school psychologist in both Oklahoma and Georgia; 16 years at Emmanuel College serving in the Education and Psychology Departments; led or co-led numerous missions' teams to East Africa, Malaysia, Romania, and Europe. International teaching on many psychological and spiritual formation topics in Kenya, Malaysia, and Ukraine.
Duties: Direct and manage daily affairs of the Ark; public spokesperson for the Ark; preside over Board meetings; work with the Board to develop projects and funding for the Ark.
Length of Term in Office: six years
Wendy Vinson, Board Chair
Growing up in a "not-so-perfect" family, Wendy understands the pain and fear involved in everyday life. Wendy was inspired by the way her mother and grandmother overcame some serious challenges in their lives. Although they didn't wear capes, they taught Wendy that set-backs and pain don't have to keep a person down. There is hope, and the scars each of us carry help to validate us as heroes when we overcome our circumstances. Wendy believes in the mission of The Ark and that it is a safe place to help individuals conquer life's struggles.
In her spare time Wendy enjoys outdoor activities and watching movies with her son
Qualifications: Over 23 years of sales and marketing experience; experience working for two international ministries/nonprofit organizations; Virginia Cable Hall of Fame Inductee; currently the Vice-President for Enrollment Management and Marketing at Emmanuel College.
Duties: Supervise and manage all the assets, business, and affairs of the Ark; perform other duties as directed by Bylaws of the Ark.
Length of Term in Office: six years
Paula Dixon, Secretary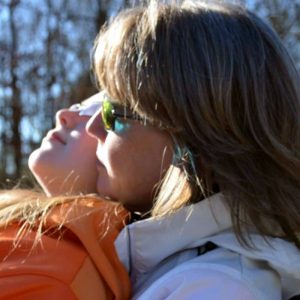 Paula's life has always revolved around her family. They taught her to help, serve, respect, and love unconditionally. Paula admires people who give themselves for the benefit of others and honor the Lord by the way they live. She believes family is a lifelong bond and commitment that must be renewed each day. She knows the services provided by the Ark can assist families in strengthening their relationships by teaching them how to work through their differences as they love and care for one another.
When folding laundry, Paula now crams the sheets inside a pillow case instead of folding them just to save time – but please don't tell her mother! She and her husband have three children and a beloved puppy dog named Bubbles.

Qualifications: Director of Communication for Emmanuel College for four years; Associate Professor at Emmanuel College for 20 years; has held numerous positions of academic and publication management responsibilities at Emmanuel College as well as her local church and other non-profit and education organizations.
Duties: Keep and maintain records of minutes of Board meetings; keep and maintain corporate records. Approves all fund-raising events and communication related to those events or solicitations. Perform other duties as directed by Bylaws of the Ark.
Length of Term in Office: six years

John Henzel, Ph.D., Treasurer
John comes to the Ark with a strong desire to see God nurture families in need. While he came from a semi-affluent family background, he did not always experience the kind of spiritual and emotional support growing up from his own family as one might expect. Once he came to Christ, though, he experienced God's healing grace over time that allowed him to look beyond his own needs to others. One such time in his life was quite eye-opening: being part of an inner-city mission church and ministry where he saw first-hand families and children in poverty but who were as much loved by God as any other. He realized for perhaps the first time the deep needs of people less fortunate than him and how not to judge others for their station in life. God loved them where they were just like God loved him where he was.
John is married to Judy and they have two adult children, John III and Joanna, and two grandchildren, Gideon and Amos. Family is very important to him.
Qualifications: John has worked in higher education for 35+ years, as an administrator and professor of business administration. His undergraduate degree is in accounting and his graduate degrees are in business administration and finance. He has served as a church and non-profit administrator/treasurer voluntarily in four different organizations for 30+ years. He is currently serving as an Elder and Treasurer for Ekklesia Centre in Royston, Georgia and is the Treasurer for Healing Springs Retreat Ministries in Franklin Springs, Georgia.
Duties: Treasurer of the Ark, overseeing the financial affairs of the organization.
Length of Term in Office: 2 years
Cyndee Phillips, Ed.D., Board Member
Cyndee's experiences as a teacher, program coordinator, and administrator (over 30 years) provide a unique perspective to the needs of not only children, but the adults with whom they interact daily. Cyndee loves children and believes that when we give them opportunities to grow and learn in a safe environment, our world is a better place for all. Faith and family are of utmost important in her life. She believes that the work of the Ark can make a difference in the lives of not only the children, but their parents and guardians, as well.
Cyndee is married to David, and their two adult children, Courtney and Grayson, are both married and enjoying careers of their own. The most delightful part of the day is when Annabeth, her only grandchild, comes to visit. Cyndee has taken on the role of "nanny" for Annabeth for all of her 4 years.
Qualifications: Director of Institutional Research and Assessment Coordinator for Emmanuel College; Adjunct Professor, Emmanuel College (12 years); Retired Assistant Superintendent, Franklin County School System (30 years); Past-President, Franklin County Chamber of Commerce, Chairperson, Leadership Franklin and Youth Leadership Franklin; Past-President, Georgia Association of Curriculum and Instructional Specialists.
Elder, Ekklesia Centre, Royston, GA
Duties: Serve where needed with a humble heart and willing spirit
Length of Term in Office: 4 years
Ann Bowman, B.S. (Biology), Board Member
Ann is a teacher, musician, youth pastor, and coach. That combination provides a glimpse into her diverse talents and abilities. She has taught 11 years in the Franklin County school system, the last 5 of which have been in the Science department at Franklin County High School, where she also coaches several sports. In addition, she taught 8 years in her church's daycare center. Obviously, she loves children, no matter their age.
Ann also serves as youth pastor and music minister at her local church.
Caring for her community is evident by her involvement in the Leadership Franklin program, serving as President. And to ensure the program's continuity, she has volunteered to plan and organize Leadership Franklin classes for the next three years.
Qualifications: Certified teacher with many years' experience from preschool to high school, coach who influences young lives, youth pastor and music minister of her church, President of Leadership Franklin program.
Duties: Assist with fund-raising activities; speak on behalf of The Ark; represent the Ark in various venues.
Length of Term in Office: 4 years
Lynn M. East, Board Member
As the oldest of 5 children, Lynn learned early the importance of family relationships and found joy in helping others. From Girls Scouts to Woman's Clubs, Lynn has served in various public arenas. Her volunteer spirit has paved the way for opportunities to hold leadership positions in churches, schools, and political organizations. Lynn's belief that community should support the stability of families and encourage them to work through the trials of life together is what drew her to the mission of The Ark.
Lynn delights in spending time with her family, pursuing amateur photography, and writing poetry and short stories. She also enjoys training her dog Tango to do simple tricks.

Qualifications: B.A. from Georgia State University – Journalism/Psychology. Graduate of Leadership Franklin and Georgia Academy for Economic Development – Regional Economic & Leadership Development. Currently serving in leadership positions in the Carnesville Woman's Club, Franklin County Republican Party, 9th District Republican Party, Stateside Prayer Advocate for International Mission Board. Past experience with service to GAGOP State Committee, Republican Women's Club, PTA/PTO, Public School Parent Advisory Councils, League of Women Voters, various leadership positions in churches as teacher (adults, children, teens), Bible Study; Franklin County Mentor Volunteer.
Duties: Assist with fundraising activities; maintain spreadsheets of donors; send donor receipts and thank-you letters; respond to questions and comments on social media; organize volunteers for various functions; ensure that notifications of classes and events are published in a timely manner;
Length of Term in Office: two years